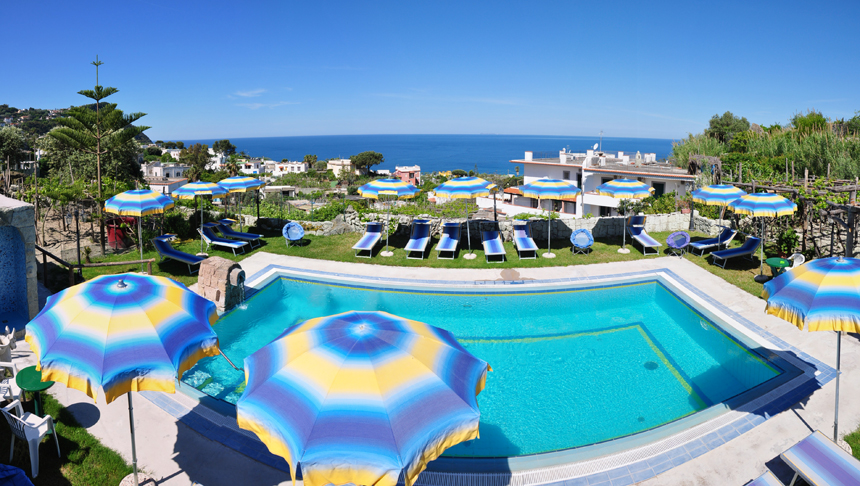 SERVICES OF 'Hotel Villa Cimmentorosso:
1 swimming pool with neck shower;
Large Mediterranean garden;
Free WI-FI;
Restaurant;
Bar;
TV room;
Snack bar;
Zone solarium equipped with beds, chairs and umbrellas;
Private incustodit;
Outside Spa at 'Hotel
Possibility of spa and beauty treatments in factories convezionati ASL, 50 meters from the Hotel
Pool with cervical shower
Small pets accepted on request excluding common areas 
Free shuttle to / from the beach
Discounts for rental scooter and the car
Discounts for Thermal parks
Reductions in Ischia for manufacturing ceramic shop
Half-day trips to Naples, Capri, Pompeii, Amalfi, Positano and Sorrento. Ischia ... and 
everything you look for in a magical place bathed in sunshine, the greenery and the sea. Ischia,
 the green island, offers excitement and many opportunities for those who enjoy walking, hiking 
and mountain biking, offering naturalisici different paths, among vineyards and fumaroles.
The landscape offers a number of ideas from the rich cultures of the areas of Citara and Maronti, 
made particularly fertile in warm water tables and a beneficial micro-climate, to oak forests and 
maquis of Zaro hill, lush pine forests in the northeast, wanted by King Francis I to repopulate an
 area devastated by an eruption in the fourteenth century.
Do not miss a 'hiking on Mount Epomeo (787 m), with its pine forests, a trip in the forest park of 
La Maddalena or the Trail of Wine, vineyards, heathers and herbs. The Mortella Gardens offer a collection 
of plants and flowers from all over the world, colors and fragrances expertly forged by Mr and Mrs Walton
 in the middle of the last century. A visit to Ischia can not be excluded from visiting the most famous 
thermal parks d 'Europe, real gardens located throughout the views and the most beautiful bays of the island.
All the parks have pools of thermal water from the different features for temperatures, height and type of 
water used, almost all have sauna, turkish bath, beach and also offer the service of bar and restaurant. 
The most extensive Thermal Parks and famous are the Poseidon Gardens in the Bay of Cited in Forio, 
Negombo in Lacco Ameno and Castiglione in Casamicciola all with direct access to the beach and the internal
 thermal Department ASL, where you can make all kinds care or spa treatment.
Visit the Parks of Ischia Spa: Negombo, Poseidon Gardens, Tropical, Aphrodite and Castiglione
Thanks to its volcanic origins the island of Ischia has a hydrothermal heritage of the richest and most
 interesting in the world, has 67 fumaroles, 29 reservoirs and 13 hydrothermal vents Our customers benefit from a discount on: